Clamp connection lift check valve
Model: H71W / H / Y
Nominal diameter: DN15 ~ 1200mm, NPS1 / 2 "~ 48"
Nominal pressure: PN1.6 ~ 10.0MPa, Class150 ~ 2500Lb
Main material: WCB, WCA, WCC , WC6, WC9, C5, C12, LCB, LCC, CF8, CF8M, CF3, CF3M, CN7M, CF8C
Design standards: API6D, JB / T8937, API594
Structure length: API594, JB / T8937
Connection standards: ASME B16.5, GB / T 9113, JB / T 79, HG / T 20592
Pressure test: API 598, GB / T 13927 , JB / T 9092
Pressure - temperature rating: ASME B16.34, GB / T12224
Product details
---
Features
1, the product structure of short length, small size, light weight.
2, the sealing flap can be selected according to different working conditions, soft sealing or hard sealing material, good sealing performance.
3, horizontal or vertical pipe can be used, easy to install.
4, the valve closed quickly, water hammer pressure is small.
5, the material of parts and the valve end face form, size according to the actual conditions or user requirements reasonable matching, to meet the needs of various projects.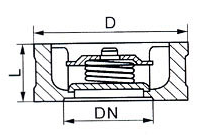 The main dimensions

DN (mm)

L

D

1.6

2.5

4 . 0

15

25

48

48

48

20

31.5

58

58

58

25

35.5

68

68

68

32

40

80

80

80

40

45

90

90

90

50

56

105

105

105

65

63

125

125

125

80

71

140

140

140

100

80

160

165

165

125

110

190

195

195

150

125

215

225

225

200

160

270

285

290

250

200

330

340

350

300

250

385

400

415